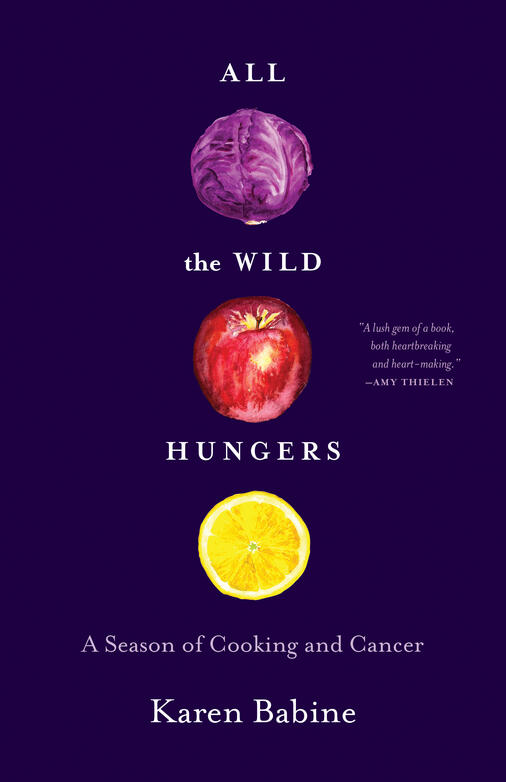 What do you do when life ceases to make sense? When your 65-year-old mom is diagnosed with a childhood cancer, so rare in adults that doctors can only guess at a correct chemotherapy dose?
In Karen Babine's case, you cook. You go to thrift stores and collect cast-iron Le Creusets—skillets and Dutch ovens, and you give them names such as Agnes and Penelope. You bake. At the same thrift stores, you buy Nordic Ware forms for bundts and angel foods.
As Babine demonstrates in All the Wild Hungers: A Season of Cooking and Cancer (Milkweed, 2019), you can control a recipe. Add this, mix that, cook or bake for a certain amount of time, and you have something delicious to eat.
As Babine's mom grows weak and tired from chemo treatments, Babine takes to the kitchen to concoct parmesan broth, beef roasts, and pancakes.
This is a collection of personal essays, not a memoir with a linear narrative. You're not going to find details about diagnosis, hospitals, and treatments. You're not going to find Babine or her family members raging against God. Babine's mom or other family members are a light presence. The essays are Babine's reaction to the circumstances, her reflections and meditations on this challenging year and the comfort the kitchen brings.
Scenes are impressionistic, like a rubbing that you do upon a gravestone. Or, like the imprint of a bird that had slammed into Babine's kitchen window.
"Each feather is perfect, delineated from the next, two wings, a tail, the head, the beak.
The bird print is in profile, its head pointing west, wings pointing to the soil and sky."
The culinary details made my mouth water, and they also made me wish I had the time and desire to make food from scratch. Is there anything Babine can't make? Just when a reader might find herself slightly envious of Babine's kitchen skills, she admits her failings. She had just perfected pancakes in a hundred-year-old Alfred Andresen cast-iron pancake pan when it cracked. "I had just started to understand this pan. And then it was gone."
Is she writing about food? Or life in general? The bird who hit the window is nowhere to be found.
"For this we believe in things we cannot see, for our eyes are on the sparrows at the feeders along the fence as they scatter at the wing of Cooper's hawks who live nearby."
I read this book for a few minutes each morning over the span of several days. My morning routine involves a combination of yoga, meditation, prayer, and words—whether writing my own or reading words others have set down. I seek morning books that are contemplative or spiritual. When I mentioned this to Babine—a friend of mine—she said the book was born out of morning pages, a practice championed by Julia Cameron that many writers embrace. The pages of All the Wild Hungersbook are infused with that morning light, with the dawn, with the unknown of what lies ahead in a new day.
~
Follow Karen Babine on Twitter for occasional mouth-watering food photos and sharp insights on the world of writing and creative nonfiction.